Verkoop
500.000,= tot 750.000,=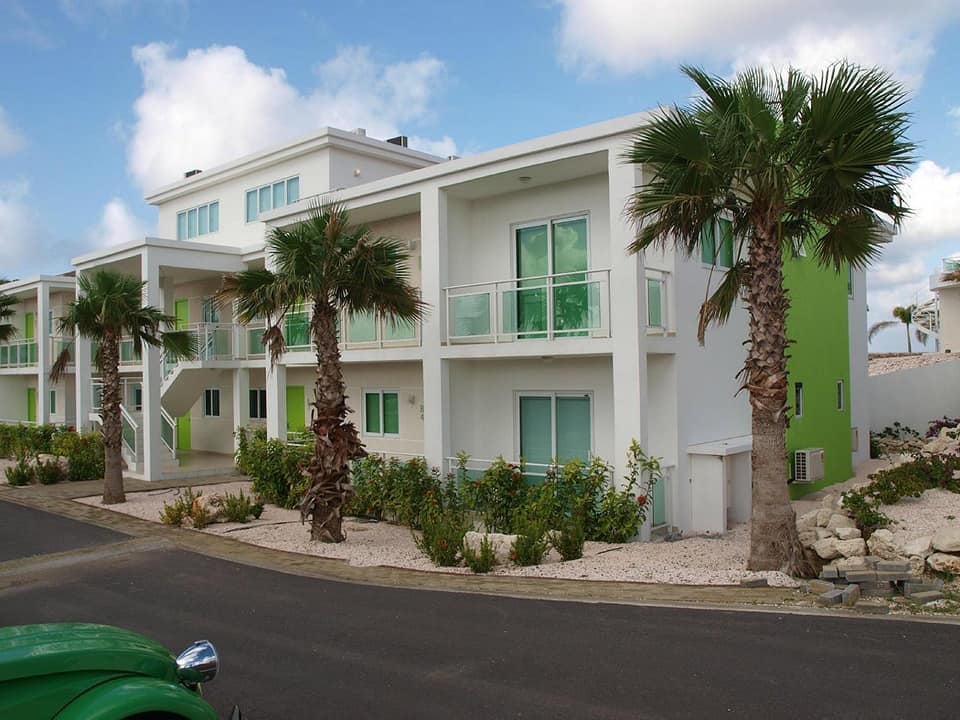 PISCADERA HARBOUR VIEW /0522K
Nafl. 615.000,- kk
Escape to the beautiful Piscadera Harbour Village on Curacao's picturesque Piscadera Bay – and experience first-class, amenity-rich two-bedroom resort bungalows and apartments that are perfectly placed only footsteps from sandy beaches, world class diving and a short drive away from downtown Willemstad and Curacao International Airport.

Relax with the comforts of home while you relax in four-star resort amenities in our well-appointed and extra spacious two-bedroom bungalows and apartments, each featuring full gourmet kitchens with stainless-steel appliances, a separate living room, private balcony, ceiling fans, coffee maker, luxurious bedding and complimentary super-fast high-speed Internet. Relax poolside at our infinity pool and take in views of Piscadera Bay. Bring your family and friends to enjoy our two-bedroom two-bathroom accommodations equipped with complimentary onsite parking.
BEACH: Sunbathe in comfy chaise lounge chairs at the Pirate Bay Beach Club & Restaurant, Curacao's unparalleled treasured canvas of turquoise blue waters and powdery white sand, only footsteps away from the resort.
SCUBA DIVING: Scuba dive at Curacao's #1 ranked PADI dive training facilities at the Dive Shop, also walking distance from the resort. From here, select from a multitude of dive options including shore dives, wreck dives and wall dives, suited for all experience levels.
CENTRAL CURACAO LOCATION: Piscadera Harbour Village is ideally positioned central to Curacao's greatest attractions. The resort is located just an eight-kilometer drive from Curacao International Airport, three kilometers to premium shopping at Curacao's Sambil indoor shopping plaza, and a five-kilometer drive to downtown Willemstad's bars, restaurants, and nightlife. Top rated sea-side championship golf awaits, a mere seven minutes from Piscadera Harbour Village at Blue Bay, a stunning 18-hole golf course set uniquely by the sea welcoming players of all skill levels. Or choose from scuba diving at more than 60 sites, including reefs and wrecks[PP1] . Snorkeling, world-class shopping, cave exploration, fishing, kiteboarding and windsurfing awaits within a twenty-minute drive from the resort. Rent a kayak or catamaran, or simply go swimming. Enjoy a relaxing massage and spa services nearby before walking our beautiful beaches or catching some sun while reading a good book. All this and more awaits you at Piscadera Harbour Village.
RESORT BUNGALOWS & APARTMENTS: Experience all the comforts of home and the first-class amenities of a resort, with the resort bungalows and apartments at Piscadera Harbour Village. Set on a gentle hill providing spectacular views, Piscadera Harbour Village is an expertly and beautifully landscaped enclave of individually owned suites. Our resort has the best Curacao apartments and bungalows on Piscadera Harbour.[PP2] The units feature open floor plans, fully equipped kitchens, complimentary Wi-Fi and all the conveniences of a modern home. It's only steps away from great restaurants and the scenic Pirate Bay [PP3] (formerly known as Hooks Hut Beach).
AMENITIES: We have the strongest Wifi anywhere on Curacao, each apartment having its own 5G network router. The infinity-style pool at Piscadera Harbour Village offers beautiful views of the bay. Take your pick of several restaurants before venturing out for a snorkel or scuba tour, go fishing or enjoy many other fun activities that we can arrange for you.
Available:
Loft: 2 bedrooms, 2 bathrooms & rooftop terrace
Price: U$ 340.000,- kk
Apartment groundfloor: 2 bedrooms, 2 bathrooms
Price:U$ 275.000,- kk
Bungalow: 2 bedrooms, 2 bathrooms
Price: U$ 425.000,- kk
Pre Sale Apartments:
* 2 buildings with each 6 apartments and 2 lofts.
For information:
inf0@villacare.net
Whatsapp: +5999 5610364

2

2

1
Foto's